Hi all, my first post here.
I am using VS Code + PlatformIO and everything worked well until yesterday when PlatformIO was updated to:
PlatformIO IDE: 2.1.3
Core 5.0.1
Home: 3.3.0
But here is what happens now if I click on: PlatformIO > Libraries > Updates: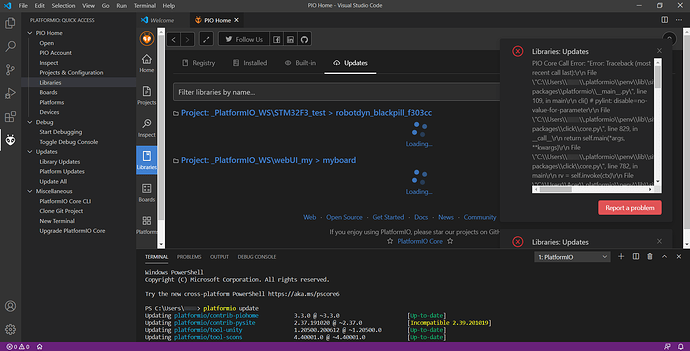 I clicked PlatformIO > Update All before clicking PlatformIO > Libraries > Updates and there is the result of Update All in the terminal window - that contrib-pysite error is the only error when running Update All.
I am not sure which versions of PlatformIO extension, PlatformIO Core and PlatformIO Home were installed until yesterday (Is there a way to check that information in some .log file?) but everything was up to date on 12 July 2020 and everything worked well.
The projects still work well, Libraries > Update is the only thing that stopped working.