I bought a STM32F103C8T6 "Bluepill" board from Amazon.
I am using a 2017 Intel Mac, running Ventura 13.2.1.
I would like to do the following:
Upload "sketches" (firmware) via USB
Do serial send and receive via USB
I assume both things are possible.
Please see my question at the end of the post.
Board image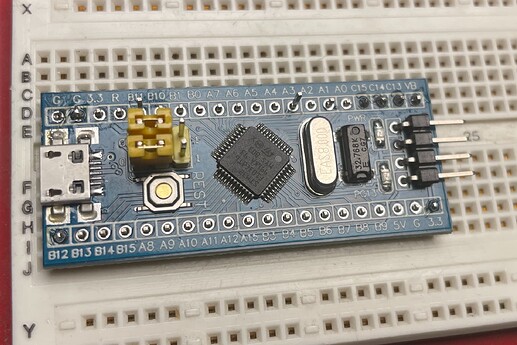 Background
I do understand that there may be obstacles:
R10 on the board may be of wrong value — R10 has 1.5 kiloohms
STM processor may be a forgery — has official STM markings
USB cable may be power only — my cable also has data lines
I understand these points to be necessary
I uploaded proper version of the stm32duino-bootloader to the board

The on-board LED is attached to pin PC13, so I downloaded generic_boot20_pc13.bin from the stm32duino binaries (Github)
I attached a cloned ST-Link USB adapter to GND, 3.3V, SWDIO, SWCLK of the board
I uploaded the bootloader to the board. I used st-flash v1.7.0 for this
the command was st-flash write generic_boot20_pc13.bin 0x8000000. It finished with INFO common.c: Flash written and verified! jolly good!

I disconnected the ST-Link USB adapter, and connected a USB cable to the board
the board greets me with a few fast, then a few slower blinks:

In platform.ini, I set the environment to:

[env:genericSTM32F103C8]
platform = ststm32
framework = arduino
board = genericSTM32F103C8
board_build.core = maple
upload_protocol = dfu


I wrote a quick thing that blinks the LEDs. I built the source. All good.
In system profiler, the board is visible as Maple 003:, product ID 0x0003, vendor 0x1eaf, version 2.01, serial number LLM 003.
What is not working:
when I press upload, the upload seemingly begins, then fails. The PC13 LED starts to blink quickly and never stops.
Configuring upload protocol...
AVAILABLE: blackmagic, cmsis-dap, dfu, jlink, serial, stlink
CURRENT: upload_protocol = dfu
Looking for upload port...
Auto-detected: /dev/cu.usbmodem14301
Uploading .pio/build/genericSTM32F103C8/firmware.bin
*** [upload] Error 1

I even temporarily connected PC14 to GND to enter "perpetual bootloader" mode (source missing). This did not help to upload, though.
I should say that uploading "sketches" via ST-Link works, but is not practical in the expected use scenario.
Regarding suuitable [env]s, I am wondering which one is the best one (bluepill_f103c8, genericSTM32F103C8, bluepill_f103c8_128k). Looked them up via pio boards |grep STM32F103C8T6 .
Question
What can I do? I searched the interwebs for many hours, to no avail. I am happy to hear from you. Thank you so much.