I'm wanting to use PLATFORMIO instead of ARDUINO IDE, but in platform IO I can only get HELTEC 1.1.1 version of WiFi Kit 32 which does not support the ESP32-S3 (V3) WiFi_Kit_32_V3 board.
I'm needing version 0.0.7 (Heltec-Aaron-Lee)'s version that contains support for Board Development, but the platform io links seem to be libraries not boards???
From Arduino IDE 2.0.3, when I go to add boards, I can get to V 0.0.7 of ESP32 Arduino when searching for HELTEC when looking for BOARDS…
GitHub - Heltec-Aaron-Lee/WiFi_Kit_series: Arduino source codes and toolchain for WiFi_Kit_series made by HelTecAutomation. (associated content link from GitHub)
BOARD: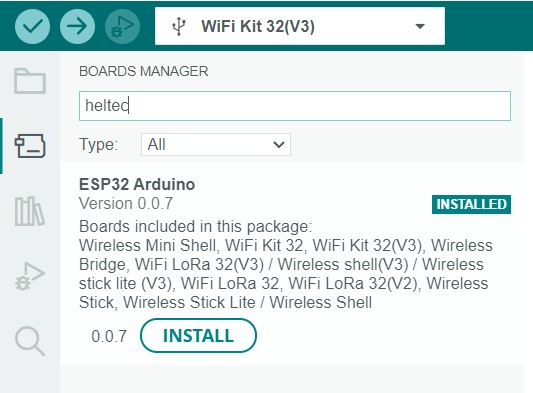 LIBRARY:
could not load additional Library Pic (1.1.1)
I do not know how to FORCE GIT to use this .json??? in Platformio??
When I researched the links to source content on github i found (very difficulty) the following:
in Platform IO when I go to add boards I can only get to WiFi_Kit_32 (V1 & V2 does not support S3 - V3)
…github.com/HelTecAutomation Esp32 Takes me to 1.1.1 and this "Branch" does not contain support for the ESP32-S3 version of WiFI_Kit_32 (V3)
…github.com/HelTecAutomation/Heltec_ESP32/releases/tag/1.1.1
DOES NOT CONTAIN SUPPORT FOR V3 (HELTEC)
Both are 1.1.1
BOARD:
unable to load supporting pic (limited uploads and links for newbie UGH!!!)
LIBRARY:
unable to load supporting pic (limited uploads and links newbie UGH!!!)