Hi,
I need to configure my PlatformIO to use the esp-idf version 3.3.5 and arduino-esp32 with the commit ID 4120975 from 27.03.2021, but my configuration isn´t valid.
-- Configuring incomplete, errors occurred!
See also ".pio/build/debug/CMakeFiles/CMakeOutput.log".

CMake Error at CMakeLists.txt:3 (include):
  include could not find load file:

    C:\...\.platformio\packages\framework-espidf/tools/cmake/project.cmake

My configuration looks like this:
[env]
board = esp32dev

platform = espressif32
framework = arduino, espidf

platform_packages =
framework-espidf@https://github.com/espressif/esp-idf.git#03810c4a065a1ecdd24a803b2c9dc4e834c7dab5
framework-arduinoespressif32@https://github.com/espressif/arduino-esp32.git#4120975

I have checked the framework directory and the directory is empty: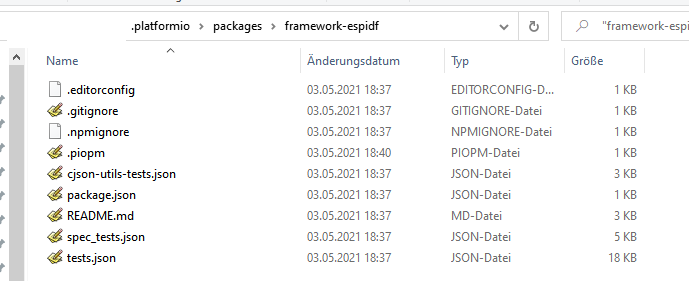 Why isn´t PlatformIO downloading the complete repository?