I have a BLE project that compiles and works using the original nkolban libraries, but as it's been incorporated into Arduino core it seemed to be sensible to use that.
So, removing the old headers and adding the Arduino.h
#include <ArduinoBLE.h>

//#include <BLEDevice.h>
//#include <BLEServer.h>
//#include <BLEUtils.h>
//#include <BLE2902.h>

Following the published example I can see I get errors as shown…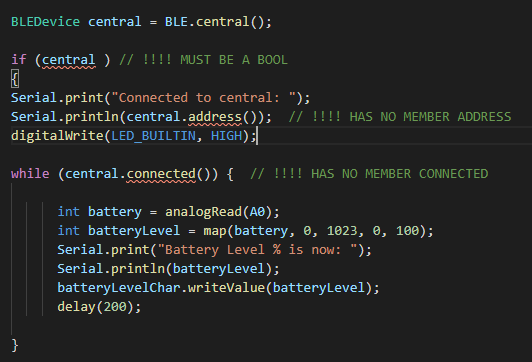 I have installed the ArduinoBLE library.
I am using ESP32 with the Arduino framework - can I validly use the current ArduinoBLE or must I continue with nkolban ESP32 BLE Arduino library?
Is there a working PIO example of a BLE sensor anywhere using ArduinoBLE.h , or suggestions as to why I see those errors.