I am using CLion. I created a new project for an Arduino example that I'm following. I created the project using this command:
platformio init --ide clion --board megaatmega2560 --project-dir my-dir

I have included a library in the lib/ directory and put the header file in the include/ directory. Here is my project structure:
.
├── CMakeLists.txt
├── CMakeListsPrivate.txt
├── cmake-build-debug
│   └── CMakeFiles
├── cmake-build-megaatmega2560
│   ├── CMakeCache.txt
│   ├── CMakeFiles
│   ├── Makefile
│   ├── cmake_install.cmake
│   └── proximity-alarm.cbp
├── include
│   ├── README
│   └── SR04.h
├── lib
│   ├── README
│   ├── SR04.cpp
│   └── SR04.h
├── platformio.ini
├── src
│   └── proximity_alarm.cpp
└── test
    └── README

I opened this project in CLion and have run "Reload CMake Project" a few times.
In proximity_alarm.cpp, I am including the library like this:
#include <Arduino.h>
#include <SR04.h>

# other code

When I build, I am getting this error:
/var/folders/5f/q429hvss3w5cymp2m3dk_31c0000gp/T//cc0yW322.ltrans2.ltrans.o: In function `global constructors keyed to 65535_0_proximity_alarm.cpp.o.1900':
<artificial>:(.text.startup+0x64): undefined reference to `SR04::SR04(int, int)'

Originally for this project, I used pio to install this library like this:
pio lib install --save lib/HC-SR04/

But that installed the library to some mysterious .pio directory and I would rather avoid having to run a command to install libraries for my projects, and I would rather rely on dropping files in include/ or lib/, which is why I recreated this project and am trying to debug why the lib/ directory is not working as expected.
The proximity_alarm.cpp code is unchanged, I know that it works when the SR04 library is on the path/linked/whatever correctly. I'm trying to understand why it's not being found - I was expecting the pio project to bootstrap the lib include paths for the lib/ and include/ directories.
What gives?
I have read this question and answers: Don't understand how /lib in the project folder works??? · Issue #273 · platformio/platformio-core · GitHub
I have tried this lib structure, but a failure still occurs:
├── lib
│   ├── README
│   └── SR04
│       ├── SR04.cpp
│       └── SR04.h

I have also read: Redirecting...
And I think I'm doing what it says, but it still doesn't compile

Do I need to configure anything else (like the ini or CMakeList file)?
Edit:
I see this library in my 'External Libraries' section: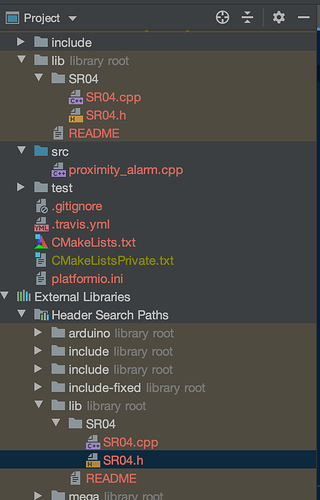 When I 'reveal' the location of that library it is pointing to my lib/SR04/* path, which I think is good, but I am still perplexed as to why it wont compile.