Hi I am trying to use PlatformIo to use a development board based on STM32F405RGT6 with Arduino framework.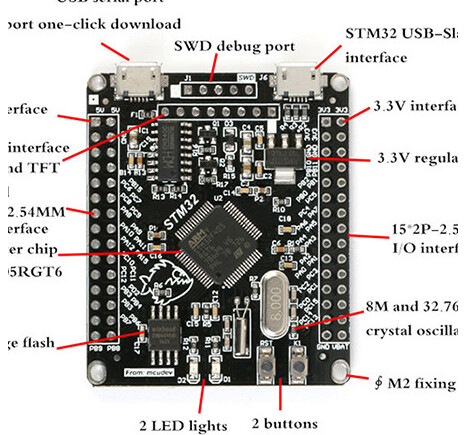 Everything seems to work perfectly, compile and flash without giving any kind of error message but the board does not seem to be executing the code.
Has anyone found themselves in a similar situation and knows how I can solve it?
---
This is my platform.ini file:
---
[env:genericSTM32F405RG]
platform = ststm32
board = genericSTM32F405RG
framework = arduino
upload_protocol = stlink
monitor_speed = 115200

---
And this is the output console when flashing:
---
Processing genericSTM32F405RG (platform: ststm32; board: genericSTM32F405RG; framework: arduino)
Verbose mode can be enabled via `-v, --verbose` option
CONFIGURATION: https//docs.platformio.org/page/boards/ststm32/genericSTM32F405RG.html
PLATFORM: ST STM32 (11.0.0) > STM32F405RG (128k RAM. 1024k Flash)
HARDWARE: STM32F405RG 168MHz, 128KB RAM, 1MB Flash
DEBUG: Current (blackmagic) External (blackmagic, jlink, stlink)
PACKAGES: 
 - framework-arduinoststm32 4.10900.200819 (1.9.0) 
 - framework-cmsis 2.50501.200527 (5.5.1) 
 - tool-dfuutil 1.9.200310 
 - tool-openocd 2.1000.200630 (10.0) 
 - tool-stm32duino 1.0.1 
 - toolchain-gccarmnoneeabi 1.90201.191206 (9.2.1)
LDF: Library Dependency Finder -> http://bit.ly/configure-pio-ldf
LDF Modes: Finder ~ chain, Compatibility ~ soft
Found 10 compatible libraries
Scanning dependencies...
No dependencies
Building in release mode
Checking size .pio/build/genericSTM32F405RG/firmware.elf
Advanced Memory Usage is available via "PlatformIO Home > Project Inspect"
RAM:   [          ]   0.7% (used 940 bytes from 131072 bytes)
Flash: [          ]   1.2% (used 12148 bytes from 1048576 bytes)
Configuring upload protocol...
AVAILABLE: blackmagic, dfu, jlink, serial, stlink
CURRENT: upload_protocol = stlink
Uploading .pio/build/genericSTM32F405RG/firmware.elf
xPack OpenOCD, x86_64 Open On-Chip Debugger 0.10.0+dev-00378-ge5be992df (2020-06-26-12:31)
Licensed under GNU GPL v2
For bug reports, read
        http//openocd.org/doc/doxygen/bugs.html
debug_level: 1

hla_swd
target halted due to debug-request, current mode: Thread 
xPSR: 0x01000000 pc: 0x080009c4 msp: 0x20020000
** Programming Started **
** Programming Finished **
** Verify Started **
** Verified OK **
** Resetting Target **
shutdown command invoked
======= [SUCCESS] Took 4.11 seconds ======= 

As as previously stated it seems that compels and upload without any problem but the board does not do anything.
PS: I discard any issue at hardware level since this board works perfectly well when i use it with CubeIDE.