Hello,
I got a simple program toggling gpio pin evergy 500 ms with a use of HAL_Delay. It works as expected when complited in STMCubeIDE.
I took the same .ioc file (picture), I generated files with stm32pio, then uploaded the same code. Pin is being toggled every 167 ms (nota bene = 500 / 3).
Can you help me pin point the problem? Can we rule out PlatformIO bug?
Spec: NucleoG431RB
Clock config: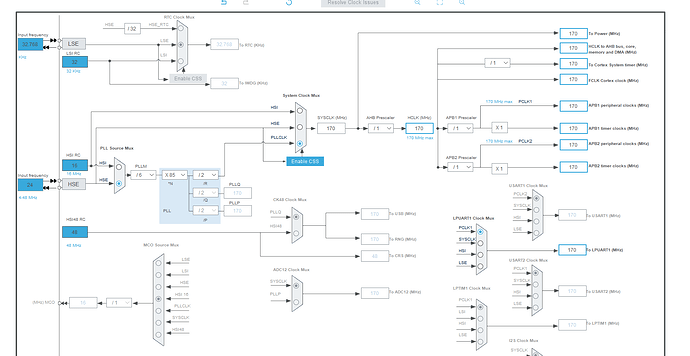 main.c code:
#include "main.h"
#include "usart.h"
#include "gpio.h"

void SystemClock_Config(void);

int main(void)
{
  HAL_Init();
  SystemClock_Config();
  MX_GPIO_Init();
  MX_LPUART1_UART_Init();

  while (1)
  {
    HAL_Delay(500);
    HAL_GPIO_TogglePin(SPI1_CS_GPIO_Port, SPI1_CS_Pin);
  }

  while (1) {}
}

void SystemClock_Config(void)
{
  RCC_OscInitTypeDef RCC_OscInitStruct = {0};
  RCC_ClkInitTypeDef RCC_ClkInitStruct = {0};

  HAL_PWREx_ControlVoltageScaling(PWR_REGULATOR_VOLTAGE_SCALE1_BOOST);

  RCC_OscInitStruct.OscillatorType = RCC_OSCILLATORTYPE_HSE;
  RCC_OscInitStruct.HSEState = RCC_HSE_ON;
  RCC_OscInitStruct.PLL.PLLState = RCC_PLL_ON;
  RCC_OscInitStruct.PLL.PLLSource = RCC_PLLSOURCE_HSE;
  RCC_OscInitStruct.PLL.PLLM = RCC_PLLM_DIV6;
  RCC_OscInitStruct.PLL.PLLN = 85;
  RCC_OscInitStruct.PLL.PLLP = RCC_PLLP_DIV2;
  RCC_OscInitStruct.PLL.PLLQ = RCC_PLLQ_DIV2;
  RCC_OscInitStruct.PLL.PLLR = RCC_PLLR_DIV2;
  if (HAL_RCC_OscConfig(&RCC_OscInitStruct) != HAL_OK)
  {
    Error_Handler();
  }

  RCC_ClkInitStruct.ClockType = RCC_CLOCKTYPE_HCLK|RCC_CLOCKTYPE_SYSCLK
                              |RCC_CLOCKTYPE_PCLK1|RCC_CLOCKTYPE_PCLK2;
  RCC_ClkInitStruct.SYSCLKSource = RCC_SYSCLKSOURCE_PLLCLK;
  RCC_ClkInitStruct.AHBCLKDivider = RCC_SYSCLK_DIV1;
  RCC_ClkInitStruct.APB1CLKDivider = RCC_HCLK_DIV1;
  RCC_ClkInitStruct.APB2CLKDivider = RCC_HCLK_DIV1;

  if (HAL_RCC_ClockConfig(&RCC_ClkInitStruct, FLASH_LATENCY_4) != HAL_OK)
  {
    Error_Handler();
  }
}

void Error_Handler(void)
{
  __disable_irq();
  while (1) {}
}

#ifdef  USE_FULL_ASSERT

void assert_failed(uint8_t *file, uint32_t line) {}
#endif /* USE_FULL_ASSERT */