I am switching from Keil, which I originally use <stm32f10x.h> for a stm32f103c8t6
to PlatformIO, now using <stm32f103xb.h> as header.
Everything works fine initially, until I realize when uploading the the program to a blackpill_f103c8, the writing address is different and it also took up more memory(Check Edit1). This lead to the program timings differ from if I uploaded with keil.
A blinking LED uploaded with keil is 1s, while the same program on platformio seems to take up to 10s.
Here's my platformio.ini
[env:blackpill_f103c8]
platform = ststm32
board = blackpill_f103c8
framework = cmsis
upload_protocol = serial
upload_port = COM7
board_build.mcu = stm32f103c8t6
board_build.f_cpu = 72000000L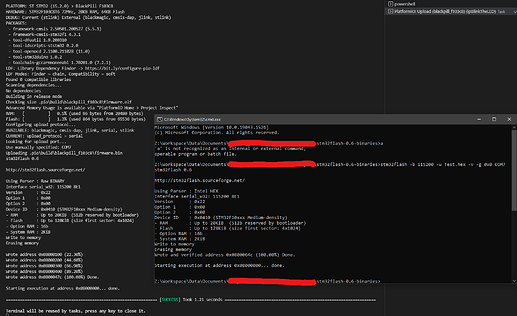 This is using the CMSIS framework
Does anyone know what could be wrong or have experience solving this?
Edit1: So I tried to flash the fireware.bin made by platformio and now matches the results from my keil hex file. However, the frequency that the program's running is still does not match.