Hello
I have a PIO project which builds a software, based on the Arduino framework for Mega 328p. (Arduino nano) Everything works as expected.
platform.ini
[env:uno]
platform = atmelavr
board = uno
framework = arduino
I also included a configuration for Nucleo 32 L432KC.
platform.ini
[env:nucleo_l432kc]
platform = ststm32
board = nucleo_l432kc
framework = arduino
board_build.core = arduino board
upload_protocol = jlink
debug_tool = jlink
When I want to debug the software, PIO build and uploads them with the embedded JLink debugger successfully. But the software runs not as expected. When I hit "pause" I see that the program hangs in "Infinite_Loop" in the startup_stm32l432xx.s.
Call stack:


When I reset the controller with the onboard reset button the call stack looks like this: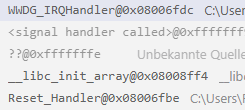 The first strange thing is, when I remove 2 function from my software (which will be not called when the controller starts up) debugging works.

→ memory problem?
When I build the software for the STM32 without debugging capabilities, the software works also as expected.
I don't have the deep knowledge how to solve this issue but it would be nice to know more about this.
Thanks in advance
Franz