Hi everybody, i'm struggling on debugging with the configuration given in the title.
platformio.ini is :
[env:seeed_wio_terminal]
platform = atmelsam
board = seeed_wio_terminal
framework = arduino
upload_protocol = atmel-ice
debug_tool = atmel-ice
debug_init_break = tbreak loop<
the "usual" blinky project compiles and it's correctly uploaded on the wio terminal :
Executing task: C:\Users\Max.platformio\penv\Scripts\platformio.exe debug <
Processing seeed_wio_terminal (platform: atmelsam; board: seeed_wio_terminal; framework: arduino)
Verbose mode can be enabled via -v, --verbose option
CONFIGURATION: Redirecting...
PLATFORM: Atmel SAM (7.1.0) > Seeeduino Wio Terminal
HARDWARE: SAMD51P19A 120MHz, 192KB RAM, 496KB Flash
DEBUG: Current (atmel-ice) External (atmel-ice, blackmagic, jlink)
PACKAGES:

framework-arduino-samd-seeed @ 1.8.1
framework-cmsis @ 2.50400.181126 (5.4.0)
framework-cmsis-atmel @ 1.2.2
toolchain-gccarmnoneeabi @ 1.70201.0 (7.2.1)
LDF: Library Dependency Finder → Library Dependency Finder (LDF) — PlatformIO latest documentation
LDF Modes: Finder ~ chain, Compatibility ~ soft
Found 14 compatible libraries
Scanning dependencies…
No dependencies
Building in debug mode
Checking size .pio\build\seeed_wio_terminal\firmware.elf
Advanced Memory Usage is available via "PlatformIO Home > Project Inspect"
RAM: [ ] 1.6% (used 3060 bytes from 196608 bytes)
Flash: [ ] 3.1% (used 15876 bytes from 507904 bytes)
================= [SUCCESS] Took 2.69 seconds =========================
but in the debug console …
Reading symbols from c:\Users\Max\Documents\PlatformIO\Projects\atmel ice test.pio\build\seeed_wio_terminal\firmware.elf…
done.
PlatformIO Unified Debugger → Redirecting...
PlatformIO: debug_tool = atmel-ice
PlatformIO: Initializing remote target…
xPack OpenOCD x86_64 Open On-Chip Debugger 0.11.0+dev (2021-10-16-21:19)
Licensed under GNU GPL v2
For bug reports, read
http://openocd.org/doc/doxygen/bugs.html
at91samd51p19
Info : auto-selecting first available session transport "swd". To override use 'transport select '.
Info : tcl server disabled
Info : telnet server disabled
Info : CMSIS-DAP: SWD supported
Info : CMSIS-DAP: JTAG supported
Info : CMSIS-DAP: FW Version = 01.00.0021
Info : CMSIS-DAP: Serial# = J42700054071
Info : CMSIS-DAP: Interface Initialised (SWD)
Info : SWCLK/TCK = 1 SWDIO/TMS = 1 TDI = 1 TDO = 1 nTRST = 0 nRESET = 1
Info : CMSIS-DAP: Interface ready
Info : clock speed 2000 kHz
Error: Error connecting DP: cannot read IDR
.pioinit:13: Error in sourced command file:<
Please note that wio terminal is only connected trough Atmel ice (that seems to be connected right since fw is uploaded) and the usb c port is only connected to a psu (no double connection to PC)
Here follows a picture of the current wiring.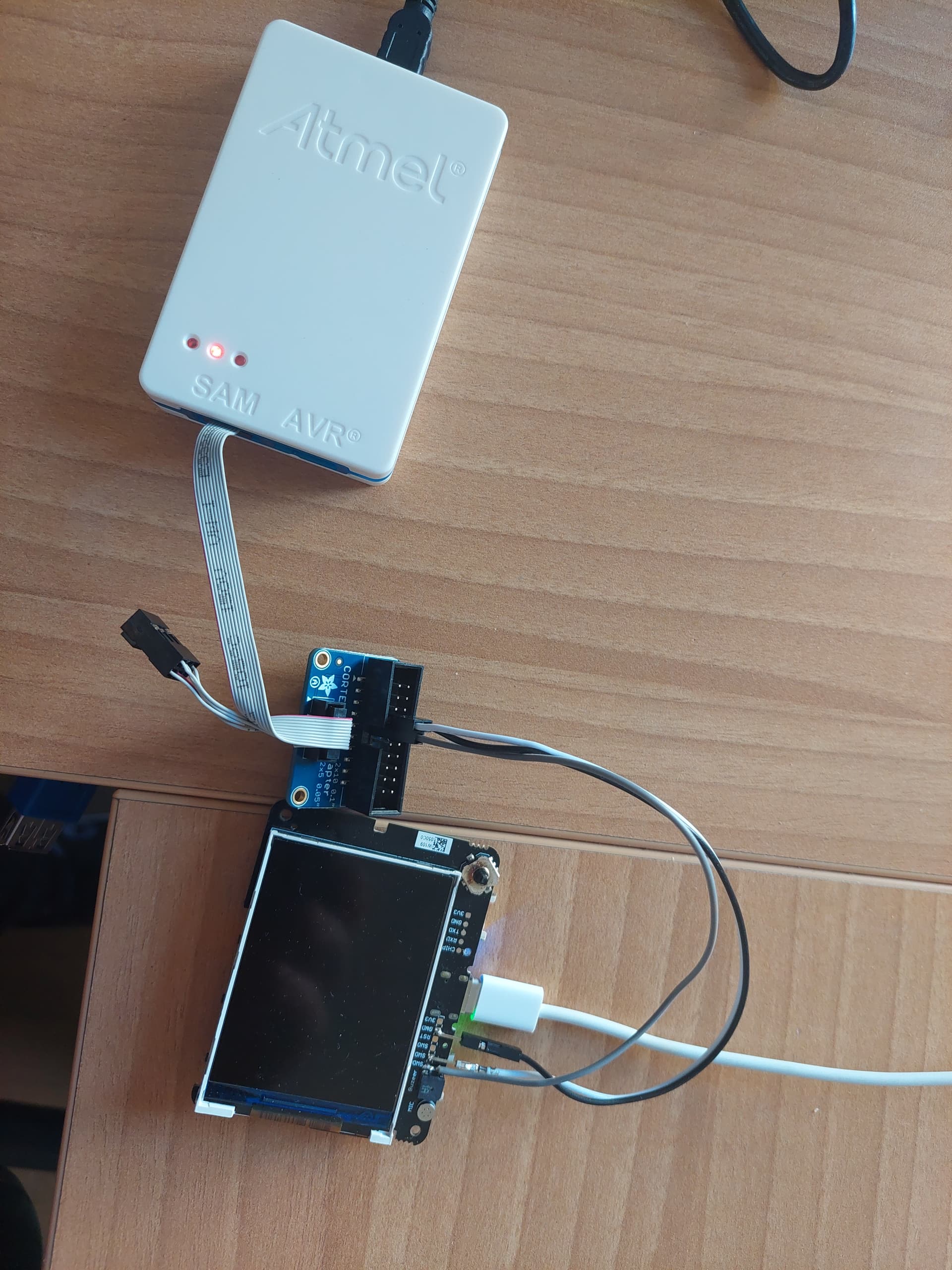 Thanks everybody for any kind of help you can provide !
Max