Hi,
I'm quite new to PlatformIO and have generally found it quite easy to transition from the Arduino IDE, I migrated using the tool which leaves most of my libraries in their old Arduino IDE location. However, I'm having a problem with dependencies with the Adafruit_MCP23017 library, a new library I've just introduced to my project which I've added as PIO library.
The C pre-processor code (excerpt below) from Adafruit_MCP23017.h looks OK to me and I would expect it to just identify the Wire.h library as a dependency as I'm compiling for ESP32, so ARDUINO_AVR_GEMMA should not be defined.
#ifndef ARDUINO_AVR_GEMMA
                                    //TinyWireM is now part of
                                    //   Adafruit version of Wire Library, so this
                                    // will work with Adafruit ATtiny85's
                                    //But Arduino Gemma doesn't use that library
                                    // We do NOT want to include Wire if it's an arduino Gemma
  #include <Wire.h>
#else
 #include <TinyWireM.h>
 #define Wire TinyWireM
#endif

In fact it identifies both Wire.h and TinyWireM.h as dependencies and then goes on to fail as it can't find the avr/interrupt.h library, which I wouldn't expect it to.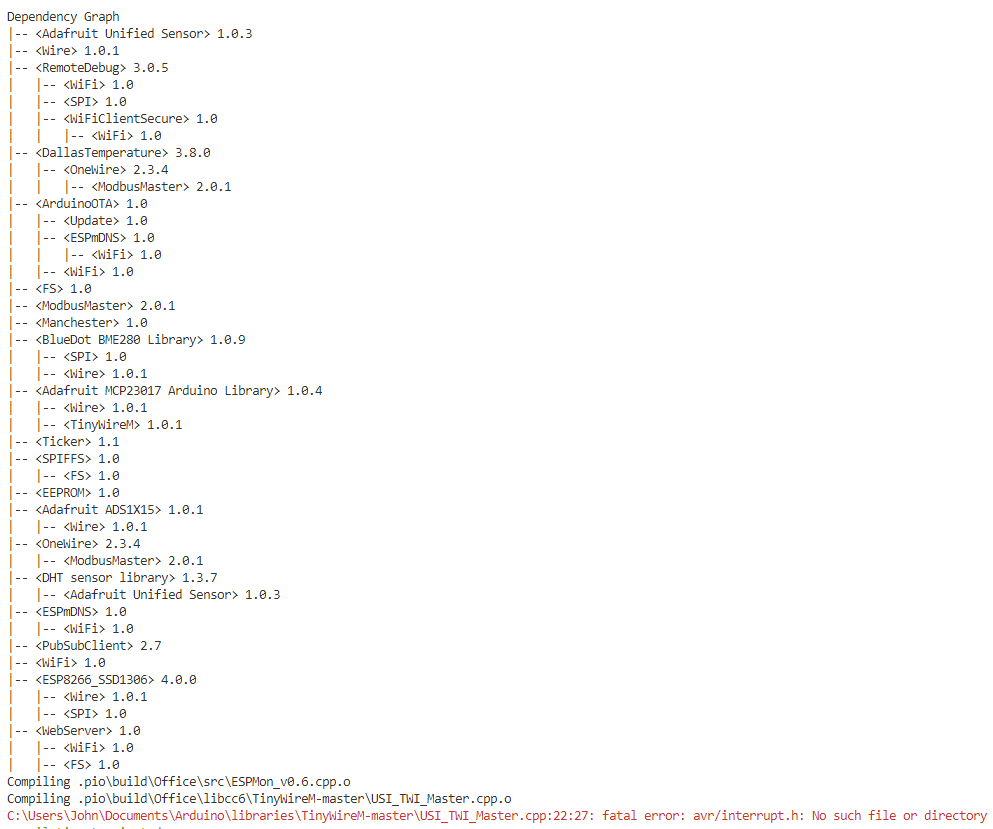 If I comment out the pre-compiler conditionals and just leave in the #include Wire.h, everything compiles and links without problems.
The relevant bits of my platformio.ini look like this:
[platformio]
default_envs = Office

[common]
framework = arduino
arduino_ide_lib_dirs = ~/Documents/Arduino/libraries
lib_deps = Adafruit Unified Sensor
monitor_speed = 115200

[env:Office]
platform = espressif32
board = lolin32
framework = ${common.framework}
lib_extra_dirs = ${common.arduino_ide_lib_dirs}
lib_deps = ${common.lib_deps}
monitor_speed = ${common.monitor_speed}
build_flags = -D BUILD=\"zOffice.h\"
upload_protocol = espota
upload_port = 192.168.xx.yyy
upload_flags = --auth=zzzzzzz
  --port=3232

Any help much appreciated.
John