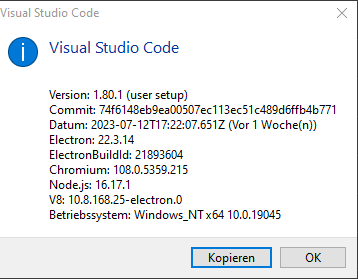 I'm created an workspacefolder "pyArduino" for using communication between Python and Arduino nano.
1.) Added Python virtual Environment in this workspacefolder as "pyard", activate it and wrote Phython code.
2.) Generate a Arduinoproject in this workspace with PlatformIO.
3.) Compile and upload to the microcontroller.
4.) Added more Arduinoprojects.
All worked fine!
Then i closed the Workspacefolder and opened another Folder. Going back to my workspace "pyArduino", all my created Arduino Project are gone. I opened the PlatformIO and added missed Projects again. Even now the Terminal shows again the Name of the virtual environment.
All works fine again!
Testet: changing the workspacefolder by 'close Folder' and 'open another folder', open my pyArduino folder again, same solution, all arduino Projects are gone!
What do i wrong? Can anybody assist?
Thanks
Helmut