We're happy to announce the next release of PlatformIO Core 4.0.1!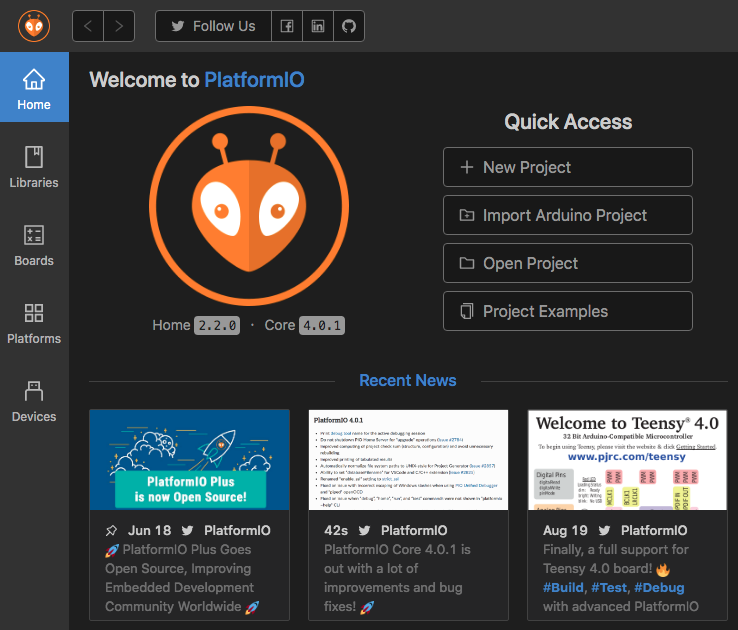 What is new
Print debug tool name for the active debugging session
Do not shutdown PIO Home Server for "upgrade" operations (issue #2784)
Improved computing of project check sum (structure, configuration) and avoid unnecessary rebuilding
Improved printing of tabulated results
Automatically normalize file system paths to UNIX-style for Project Generator (issue #2857)
Ability to set "databaseFilename" for VSCode and C/C++ extension (issue #2825)
Renamed "enable_ssl" setting to strict_ssl
Fixed an issue with incorrect escaping of Windows slashes when using PIO Unified Debugger and "piped" openOCD
Fixed an issue when "debug", "home", "run", and "test" commands were not shown in "platformio --help" CLI
Fixed an issue with PIO Home's "No JSON object could be decoded" (issue #2823)
Fixed an issue when library.json had priority over project configuration for LDF (issue #2867)
See PlatformIO 4.0.1 Release Notes for details.
Upgrade
PlatformIO IDE:
- Atom: Menu: PlatformIO > Upgrade PlatformIO Core
- VSCode: Left Sidebar > PlatformIO (icon) > Quick Access > Upgrade PlatformIO Core
Terminal: Please run pio upgrade command in terminal.
---
Regards,
The PlatformIO Team