I used Atom and PIO; the last update killed the monitor.
However, I needed to compile a new program and simply deleted Atom, installed VSCode and PIO.
I was expecting POI would not care, whether it runs on Atom or VSCode; however, I have encountered two problems:
PIO does not find the includes in my Arduino files
IntelliSense is incompatible with compiler path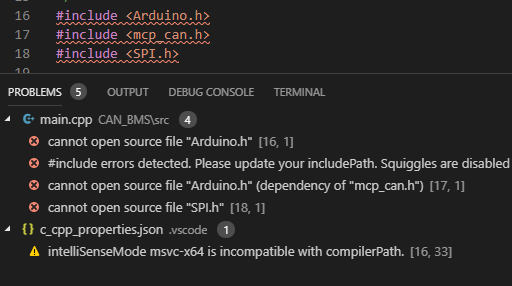 When I look up the built-in libraries, these are all there.
What do I need to do to link these Arduino includes with the source?
And how do I fix the IntelliSense issue?
For example, the CAN bus library is located as specified in platformio.ini
lib_deps = D:\Data\Workspaces\PlatformIO\SpecialLibraries\CAN_BUS_Shield
but it still does not recognise it.
[update 1] deleted /.platformio directory… it reinstalled itself, but made no difference.
[update 2] uninstalled vscode, installed it, install PIO; same result. Problem must be in project files/config???