"Sorry, new users can only put one image in a post" so don't complain that I didn't supply enough info.
Trying to program an ESP-32 via ESP-Prog from PlatformIO Home 3.0.0 Core 4.1.0 in VSCode:
Version: 1.38.1 (system setup)
Commit: b37e54c98e1a74ba89e03073e5a3761284e3ffb0
Date: 2019-09-11T13:35:15.005Z
Electron: 4.2.10
Chrome: 69.0.3497.128
Node.js: 10.11.0
V8: 6.9.427.31-electron.0
OS: Windows_NT x64 6.1.7601
There error I'm currently stuck on is:
PlatformIO Unified Debugger → Redirecting...
PlatformIO: debug_tool = esp-prog
PlatformIO: Initializing remote target…
Open On-Chip Debugger v0.10.0-esp32-20190708 (2019-07-08-11:04)
Licensed under GNU GPL v2
For bug reports, read
(removed link because "new users can only put…")
none separate
adapter speed: 20000 kHz
Info : Configured 2 cores
esp32 interrupt mask on
Info : tcl server disabled
Info : telnet server disabled
Error: libusb_open() failed with LIBUSB_ERROR_NOT_FOUND
Error: no device found
Error: unable to open ftdi device with vid 0403, pid 6010, description '', serial '' at bus location '*'
Warn : Flash driver of esp32.flash does not support free_driver_priv()
Warn : Flash driver of irom does not support free_driver_priv()
Warn : Flash driver of drom does not support free_driver_priv()
.pioinit:15: Error in sourced command file:
Remote communication error. Target disconnected.: No error.
but here is the port: (edit, removing pictures because "New users can only put one picture in a post", )
USB Serial port COM18
FTDIBUS\COMPORT&VID_0403&PID_6010
FTDIBUS\COMPORT&VID_0403&PID_6010&MI_00
with that VID and PID clearly showing.
And here is what Device Manager is showing: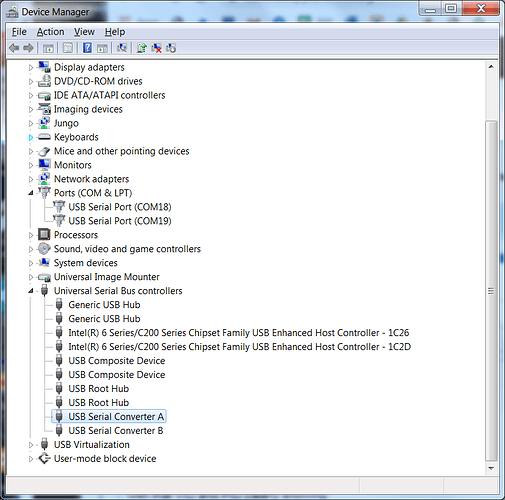 I originally had this: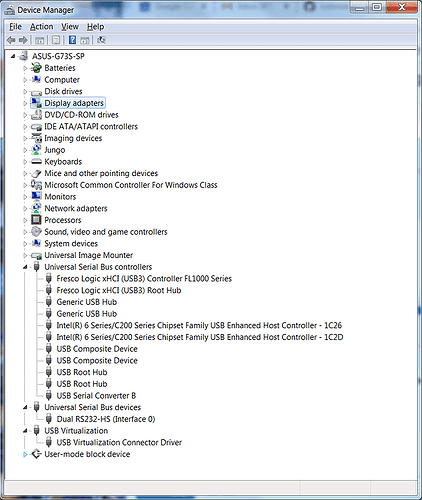 And was told to do the zadig thing on both ports, then use JTAG for programming. My
platform.io
file looks like:
[env:esp32dev]
platform = espressif32
board = esp32dev
framework = arduino
debug_tool = esp-prog
debug_init_break = tbreak setup
upload_protocol = esp-prog
But I have also tried commenting out that last line.
I have the "JTAG com n" connector hooked up to an ESP32 which is getting it's own power.