Hi!
first time user.
I have used Platform-IO for a little bit to program my ESP32 systems (esp-dev and Wemo-minis) without issue.
Now I wanted to try the ESP Prog JTag debugger…
After installing everything as I thought was correct (Zadig…) my ESPs are not properly recognized anymore as COM ports.
An Arduino is still recognized and can be programmed It shows as a CH340 driver):
(Unfortunately I just noticed when posting that beginners can only have one picture…??? )

The ESPs do not show up correctly anymore and cannot be programmed anymore, with or without the ESP-prog connected. (But they work on another system where I never fiddled with the drivers.)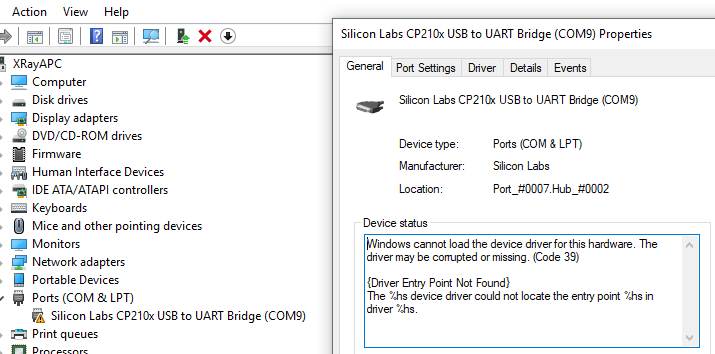 I have uninstalled/reinstalled/rebooted, exchange drivers/ always the same…
By the way, this is as it shows when plugging in both the ESP board and the debugger, but not connected to each other, this is constantly disconnecting and reconnecting:
No picture allowed… ( It shows both con ports and the corrupted port.)
Windows 10 BTW.
Any help is appreciated.