Hello!
I have a very weird issue I cannot find a solution for. Everything compiles nicely, but I frequently get intellisense errors which aren't actual errors.
here's a screenshot that shows the actual Problem: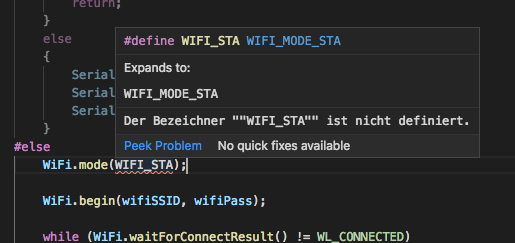 As you can see, WIFI_STA has a red underline. The intellisense popup shows how and where it is defined, I can also 'Go to definition' successfully. However, and this is the weird part I assume is causing the problem, the second to last line is in my native language (Everything is set to english as far as I can tell), and it says WIFI_STA is not defined (while apparently it is).
I have deactivated every extension except platformio and C/C++, I have deleted the .vscode folder, I have tried having only one project in my workspace, I have rebuilt intellisense index, I have tried to find any option where the language is not set to english trying to find out why this even pops out but could not find any.
Hope anyone can help me pin down the problem, it indeed drives me mad a bit, despite everything actually working.
thank you!
Wolfgang