Hi everyone,
I'm really trying to get on the platformIO boat as a replacement of Arduino IDE, which is lacking in all "modern" tools we need. So i installed the mac version of Vscode and got the 2 extensions platformIO and C/C++ Intellisense from microsoft.
I am struggling with an error that seems common, even 2 years ago, but nothing I've read and tried worked. It is the includePath error, in a fresh new project. I have it in all my new projects (tests one and the "real one") and working with "3 errors" is really bothersome to be honest.
Building works fine though. But it defeats the purpose of a good IDE to work with "3 errors" all the time

.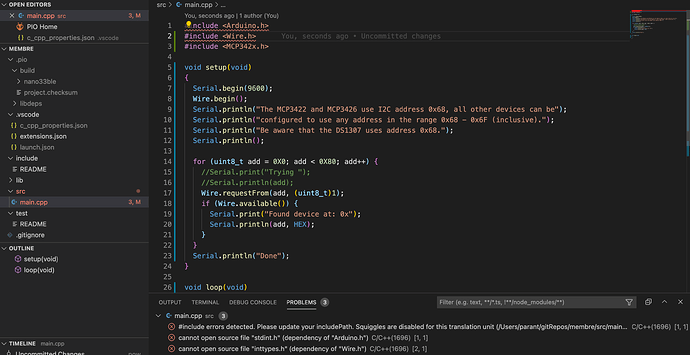 What are the solutions in 2021 ? I can't imagine it hasn't been fixed since 2018, so I imagine it might be because I'm on Mac ?
I tried reverting the microsoft intellisense to 0.26.0 for example, desinstalling and reinstalling platformIO while doing so, updated my python3, normally i have everything up to date.
I do believe I have to change something in my c_cpp_properties.json, but I just know with what. I'm a little lost, as I don't understand what is going on.
Does that problem been found out ?
Any help would be greatly appreciated

SP