I am using VSCODE with plug-in PlatformIO on Windows 10 to code for ESP8266.
I am modifying a project downloaded from GitHub, which has a rather big main cpp file with many functions.
In other development IDE systems I have used there is always a way to enable a panel, which shows the existing functions in the visible source file and by clicking in that list one can jump easily to the wanted function.
But I cannot for the life of me find where I can enable such a window in PlatformIO…
In text editor Notepad-pp it is very simple but I do not want to use that as my programming editor.
Here is how it looks like in notepad-pp: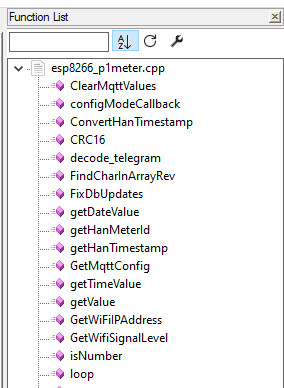 How can I enable a similar panel in PlatformIO to navigate quickly inside the source?