I'm looking to start a fairly large project on an STM32H723 based MCU and I have a ST Nucleo H723ZG. Luckily for me, this is listed as a supported board on the platformio website…except it isn't actually supported. I started a new project for this board using the CMSIS framework, but here's the fun part, the version of the CMSIS library that platfomio pulls from it's package index is out of date and doesn't have support for the H723*** chips. So when you try to build the project, it obviously cannot find the right header files and it fails. I opened an issue on the github page to hopefully get a long term fix (should be as simple as updating the package), but I need a temporary work around.
So I added the CMSIS repository directly to my project via
lib_deps = https://github.com/STMicroelectronics/cmsis_device_h7.git
and pio picked up the repository and added it to my lib_deps folder for this project, however the build still fails because it seems to get quite confused and tries to compile using a mix of the files in the package it associates with the board (the out of date version) & the my independantly added packages. I can't seem to find a way to override the board level dependencies and I'm looking for some help.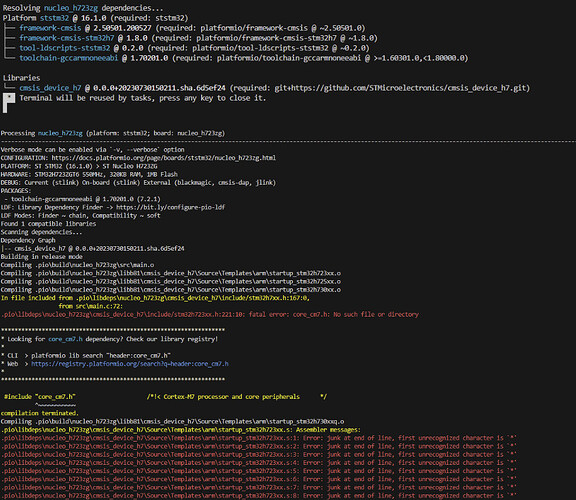 also a quick side note; it really really hurts the usability of PIO when tons and tons of packages are multiple years out of date from their origin repositories. I really want to love this tool but stuff like this that prevents me from even just starting a project on a "supported" board kills it