Hi.
This post will be about my debugging experiences on my macs with PlatformIO and the esp32 wrover kit.
Before making this to work, I used the serial log feature intensive to try and error my code. Therefore I use the settings below to color the prints in green, yellow, white and red.
I tried the debugging on the eclipse platform and this took several attempts and workarounds to get it functioning. After a high frustrating level, because the configuration resettled unexpectedly several times, I tried out debugging in PlatformIO, therefore I just modified my ini file as below and it worked on the first attempt! Great! Additional to the debugging I'm also able to open a serial monitor in parallel, did I already mention that it is great?!
ini Settings:
[platformio]
default_envs = esp32dev
[env:esp32dev]
platform = espressif32
framework = espidf
;board = esp32dev
board = esp-wrover-kit
; esp-idf/components/partition_table at master · espressif/esp-idf · GitHub
;board_build.partitions = partitions_two_ota.csv
board_build.partitions = single_part.csv
monitor_speed = 115200
monitor_flags=
–raw
After that, I tried to reproduce this success on my iMac. Debugging works fine again, but opening the serial port for logging output runs into an error. Error message will follow. On the MacBook opening the serial console gives me a decision menu to select one out of three serial adapters, it looks like I have different installled drivers. Unfortunately I can't remember which one I installed on the MacBook


Now, I try several different drivers to get to success on the iMac as well.
I will update this post with outputs and results as soon as I have new findings.
Expected result on the MacBook: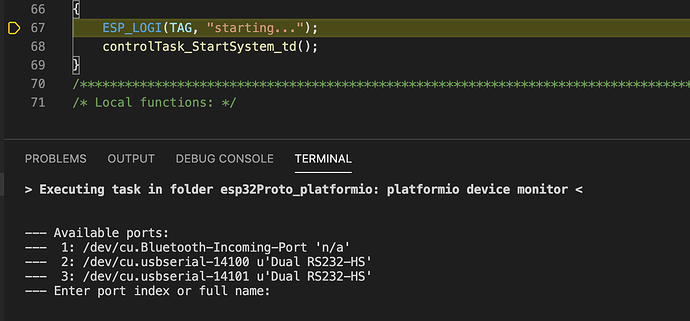 within the debug mode, I'm able to select another port for serial monitor (port 3).
Failure picture on the iMac:


The console is returning Error 16.