Good time, dear!
I want to send JSON with readings of some sensors to the server. In addition to the data itself, it contains a time stamp, as well as minimums and maximums for a certain period. In general, a rather large JSON is obtained - more than 1.5Kb.
I do it like this:


Each piece of line is created like this: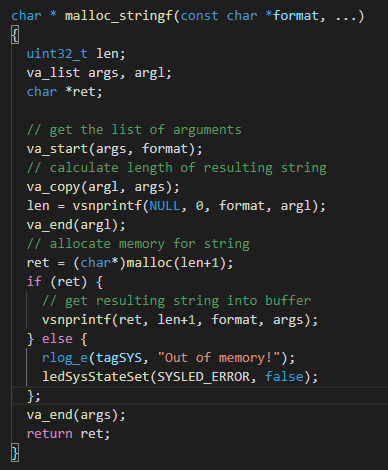 That is, we allocate memory for the string, then create it using printf, and destroy the parameters created in the previous step (free).
There are a lot of such nested malloc and free. In the end, the last resulting row is also deleted after being sent to the server. And everything seems to work.
But the next command after the last free finds out that memory blocks allocated for completely different tasks (much earlier) are damaged, and then the controller restarts completely with an error
CORRUPT HEAP: multi_heap.c:438 detected at 0x4f676944
It happens here:

As I understand it, the problem is in multiple confusing memory allocations for strings. Because in other cases (without nested calls to malloc_stringf), everything works wonderfully. But I have no idea how else the problem can be solved. Maybe someone came across a similar one?