Hi, i am working with SAMD21G18 and a custom board based on sparkfun design.
Actually i want run at 1,8v instead of 3,3v. Now, the hw works well witn 3,3v but when i use 1,8v don´t work.
I have disabled the fuse BOD33 using Atmel Studio, but the microcontroller don´t work. How i could change the fuses in platformio?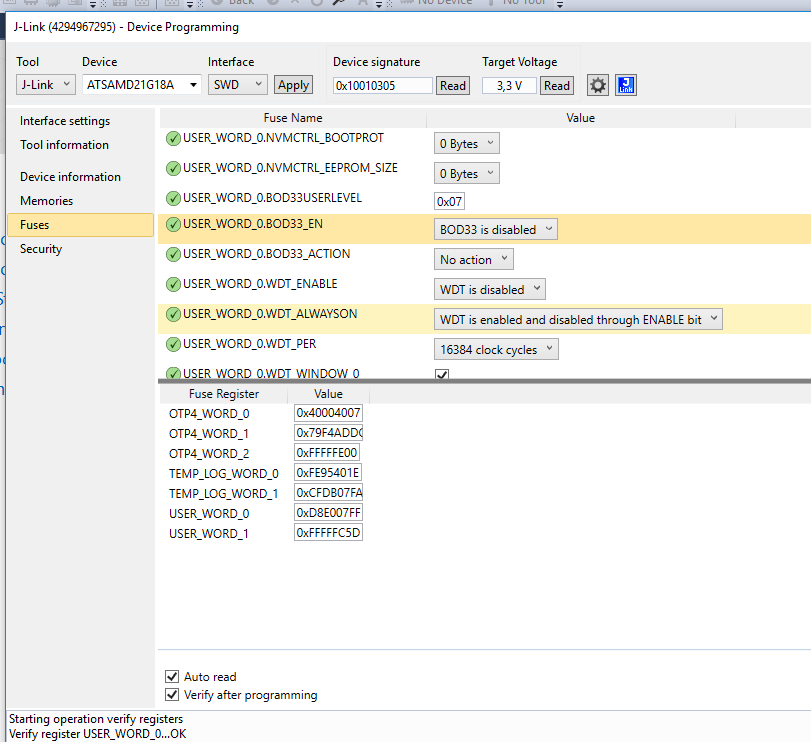 Do i need set any other option to work at 1,8v?
Thanks for your time.
Regards,
PD: My platformio.ini file is:
;PlatformIO Project Configuration File
;
; Build options: build flags, source filter
; Upload options: custom upload port, speed and extra flags
; Library options: dependencies, extra library storages
; Advanced options: extra scripting
;
; Please visit documentation for the other options and examples
; Redirecting...
[env:samd21g18a]
platform = atmelsam
board = samd21g18a
framework = arduino
build_flags = -D CRYSTALLESS
board_build.variant = SparkFun_SAMD_Mini
; SWD interface
upload_protocol = jlink
debug_tool = jlink