Hi, I have problem with the disassembly view: When I'm running my code in debug mode in vscode I click on "show disassembly" but no source comes up.
I'm referring to the panel which you can see here on the righthand side of the window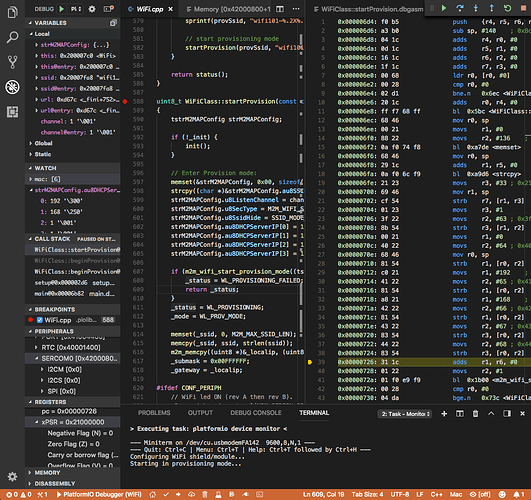 Call stack shows no source for all the entries.
C++ debug stepping functionalities are working fine.
I'm using
esp32-cam
CJMCU-232H
PlatformIO, version 4.4.0a4
my platofrmio.ini is the following
[platformio]
default_envs = esp32cam

[common]
platform = espressif32
board = esp32cam
framework = arduino
monitor_port = COM7
monitor_speed = 115200
upload_port = COM7
upload_speed = 2000000

[env:esp32cam]
platform = ${common.platform}
board = ${common.board}
framework = ${common.framework}
monitor_port = ${common.monitor_port}
monitor_speed = ${common.monitor_speed}
upload_port = ${common.upload_port}
upload_speed = ${common.upload_speed}

[env:debug]
platform = ${common.platform}
board = ${common.board}
framework = ${common.framework}
build_type = debug
debug_init_break = tbreak setup
upload_protocol = custom
debug_tool = custom
debug_server =
  $PLATFORMIO_HOME_DIR/packages/tool-openocd-esp32/bin/openocd
  -s
  $PLATFORMIO_HOME_DIR/packages/tool-openocd-esp32/share/openocd/scripts/
  -f
  $PLATFORMIO_HOME_DIR/packages/tool-openocd-esp32/share/openocd/scripts/interface/ftdi/esp32_devkitj_v1.cfg
  -f
  $PLATFORMIO_HOME_DIR/packages/tool-openocd-esp32/share/openocd/scripts/board/esp-wroom-32.cfg
  -c 'ftdi_vid_pid 0x0403 0x6014'