Here is my platformio.ini:
I use Standard peripheral library with bluepill.
I don't use any framework .
I use -std=c99 build flag
I was wondering why __cplusplus is defined in system headers - for example in .platformio\packages\toolchain-gccarmnoneeabi\arm-none-eabi\include\assert.h - Intellisense shows __cplusplus 201402L.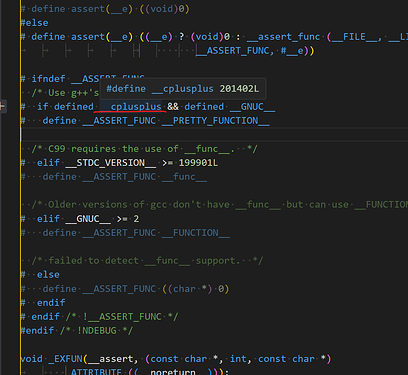 But not in the main.c (greyed out):

I was able to circumvent this behaviour with build_unflags = __cplusplus, but still am wondering why it is inconsistent and where those flags are defined.
This unfortunately doesn't fix the problem that I am getting single letter per line when printing asserts, but I guess that's a different issue:…