Perhaps a bit of topic on this forum, but Silabs cannot help me unfortunately, so I thought let's give it a try.
I bought a cheap ESP32 dev kit, and installed the CP210x drivers for it (found here: https://www.silabs.com/products/development-tools/software/usb-to-uart-bridge-vcp-drivers). The Silabs chip on the device has the following information:
CP2102
DCL00X
1806+
No matter what I try, I cannot get the device to work. I keep getting "The device cannot start (Code 10)". Reinstalling drivers, rebooting, trying different USB HUBS and cables, trying the windows 7/8 drivers, nothing works.
I can get the ESP32 to work on my Ubuntu system, with the drivers that come pre installed with Ubuntu.
Device manager: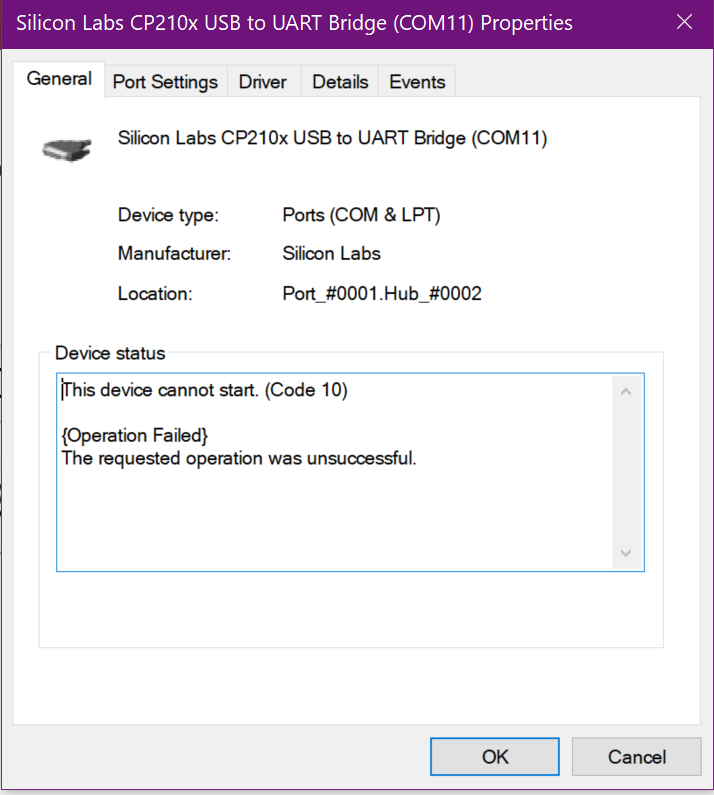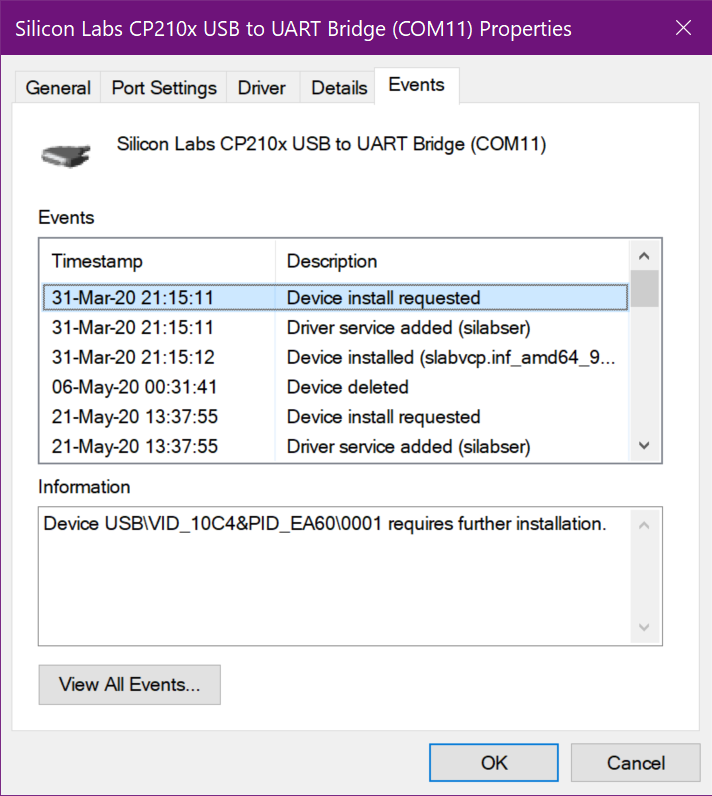 So the device VID is 10C4 and the PID is EA60, so I believe I should be able to use the normal drivers. Any ideas of what I can try to get it to work?
Output USBview (USB Device Tree):
=========================== USB Port1 ===========================

Connection Status        : 0x01 (Device is connected)
Port Chain               : 2-1
Properties               : 0x09
 IsUserConnectable       : yes
 PortIsDebugCapable      : no
 PortHasMultiCompanions  : no
 PortConnectorIsTypeC    : yes
ConnectionIndex          : 1
CompanionIndex           : 0
 CompanionHubSymLnk      : USB#ROOT_HUB30#7&10a4fe21&0&0#{f18a0e88-c30c-11d0-8815-00a0c906bed8}
 CompanionPortNumber     : 3

  ======================== USB Device ========================

    +++++++++++++++++ Device Information ++++++++++++++++++
Friendly Name            : Silicon Labs CP210x USB to UART Bridge (COM5)
Device Description       : Silicon Labs CP210x USB to UART Bridge
Device ID                : USB\VID_10C4&PID_EA60\0001
Hardware IDs             : USB\VID_10C4&PID_EA60&REV_0100 USB\VID_10C4&PID_EA60
Driver KeyName           : {4d36e978-e325-11ce-bfc1-08002be10318}\0000 (GUID_DEVCLASS_PORTS)
Driver                   : \SystemRoot\System32\drivers\silabser.sys (Version: 10.1.8.2466  Date: 2019-06-24)
Driver Inf               : C:\WINDOWS\inf\oem9.inf
Legacy BusType           : PNPBus
Class                    : Ports
Class GUID               : {4d36e978-e325-11ce-bfc1-08002be10318} (GUID_DEVCLASS_PORTS)
Service                  : silabser
Enumerator               : USB
Location Info            : Port_#0001.Hub_#0002
Location IDs             : PCIROOT(0)#PCI(1C04)#PCI(0000)#PCI(0200)#PCI(0000)#USBROOT(0)#USB(1), ACPI(_SB_)#ACPI(PCI0)#ACPI(RP05)#ACPI(PXSX)#ACPI(TBL3)#ACPI(TBTU)#ACPI(RHUB)#ACPI(UB21)
Container ID             : {34c052a1-08b6-5809-881e-95820d434537}
Manufacturer Info        : Silicon Labs
Capabilities             : 0x14 (Removable, UniqueID)
Status                   : 0x01806400 (DN_HAS_PROBLEM, DN_DISABLEABLE, DN_REMOVABLE, DN_NT_ENUMERATOR, DN_NT_DRIVER)
Problem Code             : 10 (CM_PROB_FAILED_START)
HcDisableSelectiveSuspend: 0
EnableSelectiveSuspend   : 0
SelectiveSuspendEnabled  : 0
EnhancedPowerMgmtEnabled : 0
IdleInWorkingState       : 0
WakeFromSleepState       : 0
Power State              : D3 (supported: D0, D3, wake from D0)
COM-Port                 : COM5 (none assigned)

    ---------------- Connection Information ---------------
Connection Index         : 0x01 (1)
Connection Status        : 0x01 (DeviceConnected)
Current Config Value     : 0x00
Device Address           : 0x07 (7)
Is Hub                   : 0x00 (no)
Device Bus Speed         : 0x01 (Full-Speed)
Number Of Open Pipes     : 0x00 (0 pipes to data endpoints)
Data (HexDump)           : 01 00 00 00 12 01 10 01 00 00 00 40 C4 10 60 EA   ...........@..`.
                       00 01 01 02 03 01 00 01 00 07 00 00 00 00 00 01   ................
                       00 00 00                                          ...

    --------------- Connection Information V2 -------------
Connection Index         : 0x01 (1)
Length                   : 0x10 (16 bytes)
SupportedUsbProtocols    : 0x03
 Usb110                  : 1 (yes)
 Usb200                  : 1 (yes)
 Usb300                  : 0 (no)
 ReservedMBZ             : 0x00
Flags                    : 0x00
 DevIsOpAtSsOrHigher     : 0 (Is not operating at SuperSpeed or higher)
 DevIsSsCapOrHigher      : 0 (Is not SuperSpeed capable or higher)
 DevIsOpAtSsPlusOrHigher : 0 (Is not operating at SuperSpeedPlus or higher)
 DevIsSsPlusCapOrHigher  : 0 (Is not SuperSpeedPlus capable or higher)
 ReservedMBZ             : 0x00
Data (HexDump)           : 01 00 00 00 10 00 00 00 03 00 00 00 00 00 00 00   ................

---------------------- Device Descriptor ----------------------
bLength                  : 0x12 (18 bytes)
bDescriptorType          : 0x01 (Device Descriptor)
bcdUSB                   : 0x110 (USB Version 1.10)
bDeviceClass             : 0x00 (defined by the interface descriptors)
bDeviceSubClass          : 0x00
bDeviceProtocol          : 0x00
bMaxPacketSize0          : 0x40 (64 bytes)
idVendor                 : 0x10C4 (Silicon Laboratories, Inc.)
idProduct                : 0xEA60
bcdDevice                : 0x0100
iManufacturer            : 0x01 (String Descriptor 1)
iProduct                 : 0x02 (String Descriptor 2)
iSerialNumber            : 0x03 (String Descriptor 3)
bNumConfigurations       : 0x01 (1 Configuration)
Data (HexDump)           : 12 01 10 01 00 00 00 40 C4 10 60 EA 00 01 01 02   .......@..`.....
                       03 01                                             ..

------------------ Configuration Descriptor -------------------
bLength                  : 0x09 (9 bytes)
bDescriptorType          : 0x02 (Configuration Descriptor)
wTotalLength             : 0x0020 (32 bytes)
bNumInterfaces           : 0x01 (1 Interface)
bConfigurationValue      : 0x01 (Configuration 1)
iConfiguration           : 0x00 (No String Descriptor)
bmAttributes             : 0x80
 D7: Reserved, set 1     : 0x01
 D6: Self Powered        : 0x00 (no)
 D5: Remote Wakeup       : 0x00 (no)
 D4..0: Reserved, set 0  : 0x00
MaxPower                 : 0x32 (100 mA)
Data (HexDump)           : 09 02 20 00 01 01 00 80 32 09 04 00 00 02 FF 00   .. .....2.......
                       00 02 07 05 81 02 40 00 00 07 05 01 02 40 00 00   ......@......@..

    ---------------- Interface Descriptor -----------------
bLength                  : 0x09 (9 bytes)
bDescriptorType          : 0x04 (Interface Descriptor)
bInterfaceNumber         : 0x00
bAlternateSetting        : 0x00
bNumEndpoints            : 0x02 (2 Endpoints)
bInterfaceClass          : 0xFF (Vendor Specific)
bInterfaceSubClass       : 0x00
bInterfaceProtocol       : 0x00
iInterface               : 0x02 (String Descriptor 2)
Data (HexDump)           : 09 04 00 00 02 FF 00 00 02                        .........

    ----------------- Endpoint Descriptor -----------------
bLength                  : 0x07 (7 bytes)
bDescriptorType          : 0x05 (Endpoint Descriptor)
bEndpointAddress         : 0x81 (Direction=IN EndpointID=1)
bmAttributes             : 0x02 (TransferType=Bulk)
wMaxPacketSize           : 0x0040 (64 bytes)
bInterval                : 0x00 (ignored)
Data (HexDump)           : 07 05 81 02 40 00 00                              ....@..

    ----------------- Endpoint Descriptor -----------------
bLength                  : 0x07 (7 bytes)
bDescriptorType          : 0x05 (Endpoint Descriptor)
bEndpointAddress         : 0x01 (Direction=OUT EndpointID=1)
bmAttributes             : 0x02 (TransferType=Bulk)
wMaxPacketSize           : 0x0040 (64 bytes)
bInterval                : 0x00 (ignored)
Data (HexDump)           : 07 05 01 02 40 00 00                              ....@..

  -------------------- String Descriptors -------------------
String descriptors are not available  (because the device has problem code CM_PROB_FAILED_START)