Hi everyone,
I want to use my Matrix portal m4(SAMD51) as a USB mass storage device running in platformio, which requires select USB Stack as TinyUSB.
After some searches, I have added the build_flags = -D USE_TINYUSB.
But somehow, with build_flags = -D USE_TINYUSB added. No matter what code I uploaded, the board just no longer shows up under Ports and I can't upload code or open serial monitor anymore.
Platformio.init: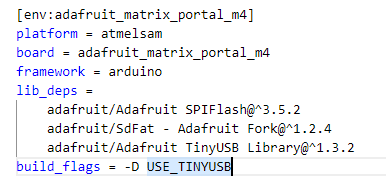 I am not sure if this is the right way to select TinyUSB as the USB stack.
It would be very appreciated if anyone can offer any help!
Leo