This is a new problem. Just happened today. I wanted to reproduce a librarry error, because I figured out how to ask my question.
This is not about libraries. There's a story.
Arduino IDE stopped working on my new Win10 PC, so I got a new Win10 PC, better. Arduino still won't open. The image flashes, but it's never mentioned in Task Manager.
So I got PlatformIO. I figured out how to use it, but now I'm getting nonsense error after nonsense error. Look at this one: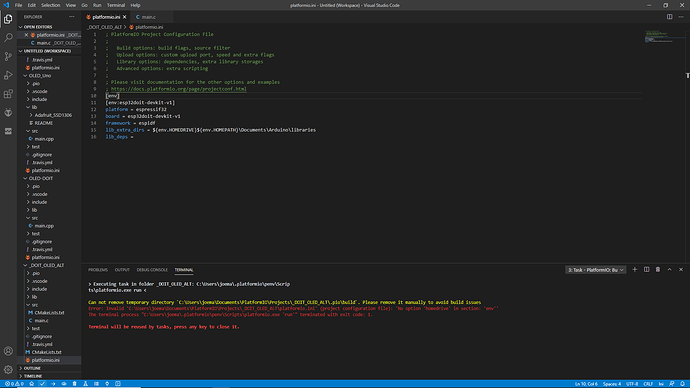 (I just typed in [env], to see if that would do anything. It didn't. Same error)
I know Platformio makes their .ini files correctly.
I have experience with .ini files.
Meanwhile, when I try to use Arduino code I've used a thousand times, I get this: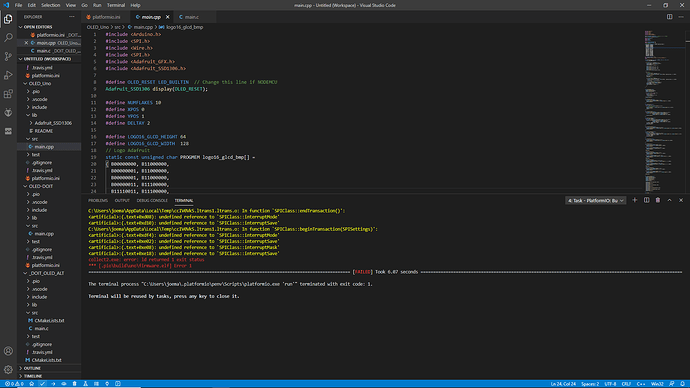 SPI is actually in there twice. Why isn't it working?
This cpde, directly taken from a library example, gets me an error:
// Declaration for an SSD1306 display connected to I2C (SDA, SCL pins)
#define OLED_RESET -1 // Reset pin # (or -1 if sharing Arduino reset pin)
Adafruit_SSD1306 display(SCREEN_WIDTH, SCREEN_HEIGHT, &Wire, OLED_RESET);
It says it's not recognized. These stinking libraries are where they belong.
Is my PC set up wrong?