Hi
I have just installed pio on vsc on windows 10 to try and code my esp8266.
I have an x86-64 based system.
when i try to upload the project onto my board, i get the below error.
Tool Manager: Installing platformio/tool-mkspiffs @ ~1.200.0
Error: HTTPSConnectionPool(host='api.registry.ns1.platformio.org', port=443): Max retries exceeded with url: /v3/packages/platformio/tool/tool-mkspiffs (Caused by SSLError(SSLError(1, '[SSL: WRONG_VERSION_NUMBER] wrong version number (_ssl.c:1123)')))

I have tried with no success.
Temprarliy disabling my Avast antivirus - did not work
running this from command prompt (my system cli) - same error occurred.
for debugging purposes when i visit the website PlatformIO Registry API in my browser, the SSL certificates i see are as below: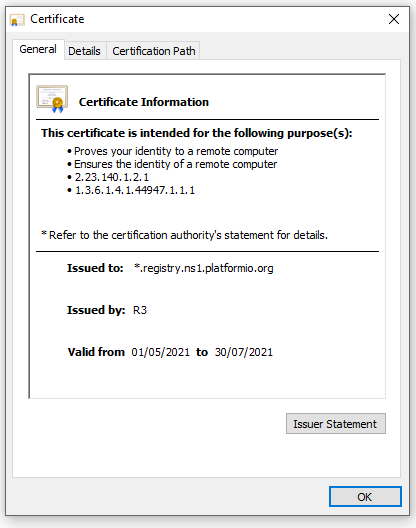 board: WeMos D1 R2 and mini
pio details
VSC details
Version: 1.56.2 (user setup)
Commit: 054a9295330880ed74ceaedda236253b4f39a335
Date: 2021-05-12T17:13:13.157Z
Electron: 12.0.4
Chrome: 89.0.4389.114
Node.js: 14.16.0
V8: 8.9.255.24-electron.0
OS: Windows_NT x64 10.0.19042