Hello,
I just started to have error Failed to launch GDB: Error: write EPIPE on debugging start.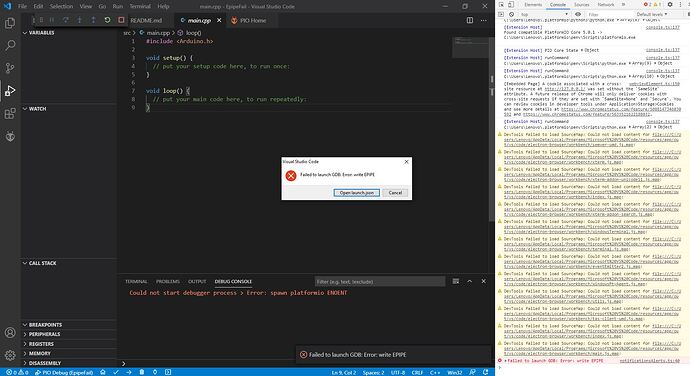 I am using PlatformIO IDE plugin for VS Code on Windows 10.
Yesterday and in the morning debugger was working. Then I turned off my laptop, turned it on back again hour later and now I cannot start debugging. Platformio is able to build code and upload on board (STSTM32F4 Discovery if it matters) but launching debugging session is blocked by that error.
Tried: removing .pio directory in project root, rebooting my laptop, uninstalling and installing back PlatformIO IDE plugin, running VS Code as admin, removing .platformio dir in home directory to force platformio core reinstall. Nothing changed, still the same problem.

To check if this is my application config problem I generated fresh platformio project for the board I am using. Still the same error so problem seems to be on platformio/vscode side.

The same error is thrown even if Discovery board is not connected to PC, I think that means problem is before plaformio debugger tries to connect with board

On Eclipse with SW4STM32 plugin setup on the same laptop, debugging that Discovery board is working - seems like this is not problem with my laptop OS or hardware.

I was able to reproduce problem on another Win10 laptop after fresh installation of VS Code + PlatformIO IDE

Tested on disco_f407vg, bluepill_f103c8 boards with the same result
Can someone help, and how can I assist in that?