I'm trying to port a TinyML project from the Arduino IDE to PlatformIO. This project uses the Arduino Nano 33 Sense board.
I can compile the code successfully in the Arduino IDE by installing the Arduino mbed enabled boards: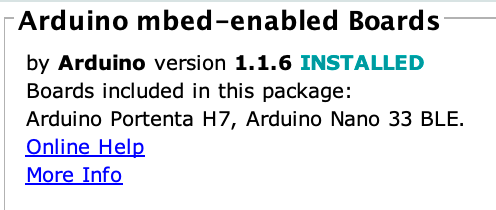 If I try to recreate this in PlatformIO using the nano33ble board, I get a compiler error:
undefined reference to `arm_rms_q15'

This is similar to what is discussed around this sample on the Arduino forums, and the 'fix' is to change the Arduino board in the board manager as there are multiple options that match that board.
So my question is - what is the right board setup to use to make this compile? My platformio.ini is:
[env:nano33ble]
platform = nordicnrf52
board = nano33ble
framework = arduino