Hi!
I am trying to complete a project and finding myself in what I feel are time consuming rabbit holes. I have been trying to use STM32F103 chips with LibopenCM3 to create a composite HID device with a DFU Mode. I have managed to make all of my HMI and DFU code work, but the composite HID has been challenging for a variety of reasons I have been working through. I want to use FreeRTOS because in theory it simplifies the sharing of resources between HMI interrupts and the USB HID stuff. I also was hoping to have USART debugging always on - but it seems you cannot use the libopenCM3 HID libraries along-side their USART libraries. Maybe it is interrupts? That is what led me to try and use FreeRTOS in the first place, was attempting to get USART output to work alongside USB HID.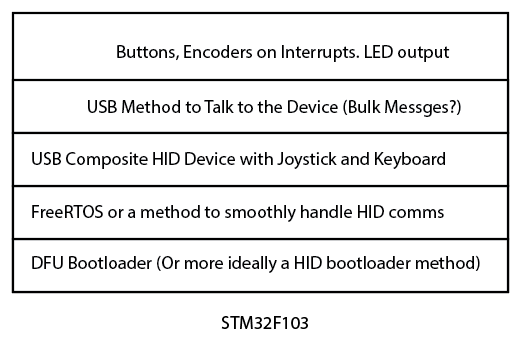 This is roughly what I am trying to make.
I still want to use STM32, but at this point I am growing weary of libopencm3 because it does not seem to have a dedicated help forum! The freeRTOS forum has some copy-paste response they do to any question about using it with libopencm3, meanwhile the supported STM32 FreeRTOS ports are either commercial (IAR) or CubeMX, which does not support composite HID!