Hello,
I have VS installed on my PC and I have a problems with it.
I use an "Arduino MKR1000" board. It has two interfaces. A virtual COM and an SWD interface.
When uploading a sketch (hex files) to the board via the interface, an error occurs: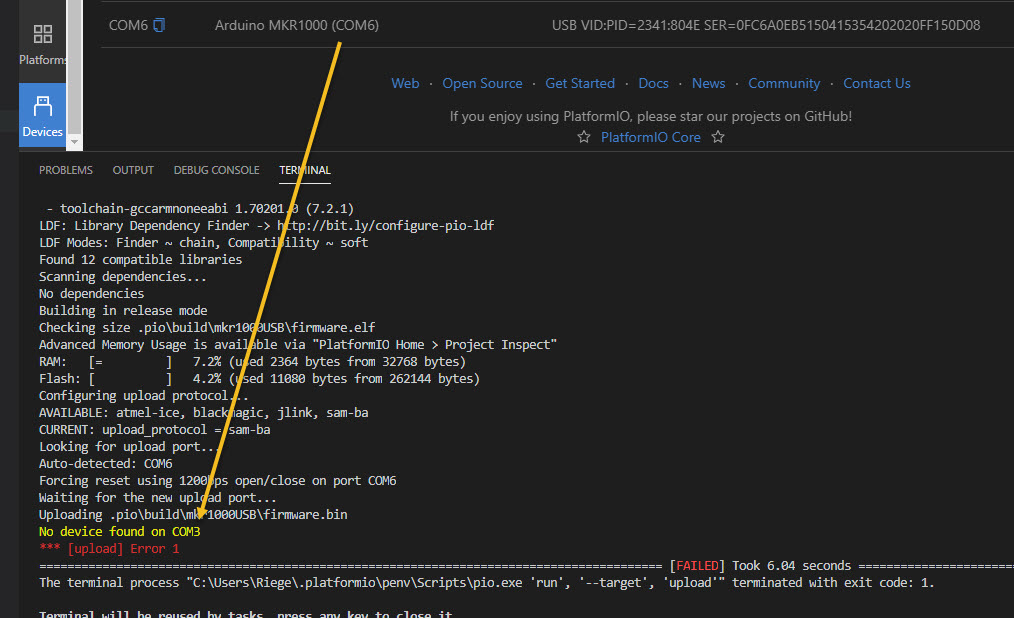 "No device found on COM3".
My idea, an incorrect interface driver is used during upload.
The cause is in the PlatformIO.ini. "Platform = atmelsam" is specified in this file. This information relates to the SWD interface which I do not want to use.
I want to upload my sketch via the connected virtual USB-COM interface:
"upload_port = COM6"
This virtuel USB Port COM6 works not.
I tried to get help in the suport community regarding my problems. I did not receive an answer.
Another error occurs during the update process:
"C: \ Program Files (x86) \ Microsoft VS Code \ tools \ inno_updater.exe
Error creating a file in the target folder: Access denied. "
I have changed the access rights, now it appears:
"Set up
Access denied.
error
Setup could not be completed.
Please correct the problem and restart the setup. "
Regards Jurgen