I have the simple programme using a stepper motor & ESP32.
It's me being totally dense i know, and all i am trying to do is turn a toggle button off after manually turning it on, and letting it completing its function turn it off.
Whenever a call is made to the step_off() routine, I would like to turn all toggled buttons off, or if it is something simple to turn individual toggle button off Line 432 of the main.cpp file is the step_off() routine.
I bashing my head on or off for about a week, trying to implement what I'm sure is a very simple bit of code. If anyone could help I would be very very grateful.
Hopefully to make it bit easier in looking at the code I have uploaded it to Github
https://github.com/meathome2019/Roller-Blind-Positioner.git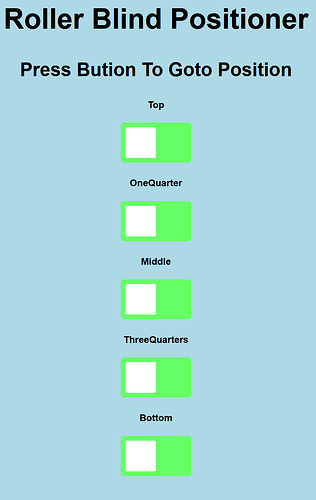 .