FT2232HL is the chip used by ESP-Prog for debugging, but it's too expensive. There is a cheap usb2jtag chip, CH347, which the price is only one fifth of FT2232HL even buy only one, it can be used for ESP32 debugging and uart.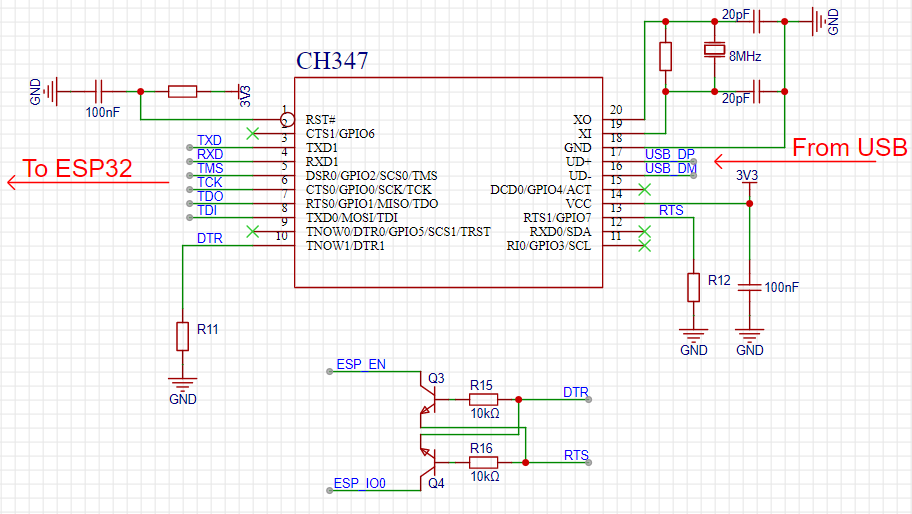 I have test the "DTR, RTS, TXD, RXD" of CH347, as the picture illustrated, it works very well, it's easy to upload the program for esp32 by platformio, just one clicking, nothing added in platformio.ini.
But when debugging esp32, namely, using "TMS, TCK, TDO, TDI" of CH347, platformio cannot recognize this chip. Then I contact WCH, the technical staff provide me two files: "ch347.cfg and openocd.exe", the openocd.exe is ported by WCH.
The technical staff told me that replace the openocd.exe in ".platformio\packages\tool-openocd-esp32\bin" with "ch347.cfg and openocd.exe" provided.
But after doing all the steps above, platformio still cannot debug esp32 using ch347.
Does anyone knows how to do with it?
Best regards.
P.S. The "ch347.cfg and openocd.exe" can be downloaded from:
https://github.com/wanggaoteng/C-