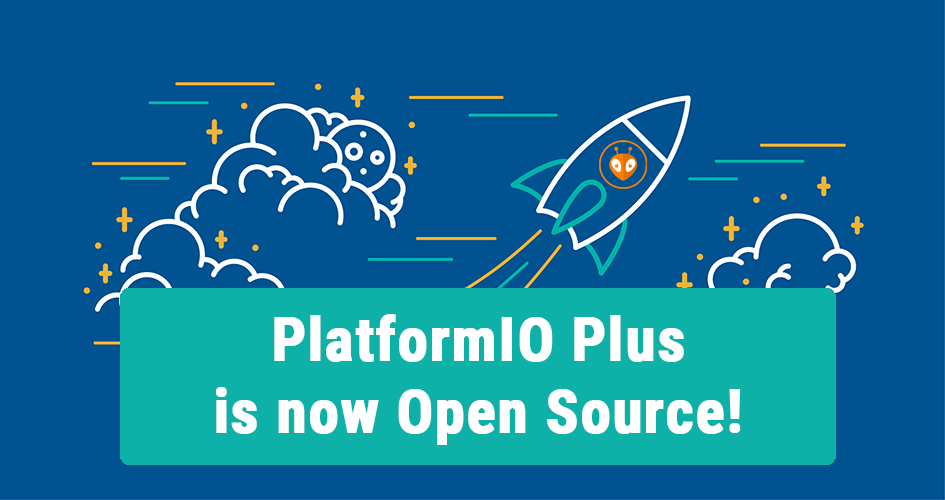 We are happy to announce that PlatformIO Labs, OÜ (a company behind PlatformIO) has

established a new strategic partnership in collaboration with Western Digital Corp. (NASDAQ: WDC) and SiFive Inc., and opens its PlatformIO Plus solutions in order to provide embedded developers from all over the world free access to the previously paid features like PIO Unified Debugger, PIO Unit Testing Engine, and PIO Remote.
We always intended to make PIO Plus open source, but it has simply taken a while longer to complete than we anticipated. By going Open Source, our hard work will live on, not only to support what has already been created but to lay the foundation for an unpredictable and exciting future.
We are very grateful to our partners for providing the funding to make this open source of PIO Plus tools possible. Our striving to stay independent from any specific vendor or platform is a guarantee that the vast list of supported hardware and software solutions will grow even more helping the future development of the PlatformIO ecosystem.
Thank you for making PlatformIO what it is today. Your support via PIO Plus Subscription, feedback, bug reports and encouragement over the last five years have been invaluable. We couldn't have achieved this milestone without you – our amazing Community!

– The PlatformIO Team
What does this mean for you?
You can continue to expect the same excellent service and support, from the same PlatformIO Team, that you've gotten for the last years.
We will continue to remain unbiased and operate independently as we're still 100% committed to providing the best experience for our community regardless of the development platforms you are using.
We are going to keep building new features and useful improvements to the development tools to push this industry forward and make our users' lives easier.
Questions you may have
What is happening to the existing PlatformIO Plus products?
The source code of PIO Unified Debugger and PIO Unit Testing Engine has been transferred to PlatformIO Core repository ( https://github.com/platformio/platformio-core ) under the same maximum permissive Apache 2.0 license. It will be released with upcoming PlatformIO Core 4.0 soon.
If you use PlatformIO Core 3.0, please update PIO Core Plus package via $ pio update command or using "PlatformIO IDE > PlatformIO View (left sidebar) > Quick Access > Updates > Update All" to have free access to PIO Plus tools. You don't need to use PIO Account to debug or test your code. The only case when you need it is PIO Remote (we need it to identify your agents and remote devices).
What's happening to my paid membership?
PIO Unified Debugger, PIO Unit Testing Engine, and PIO Remote are free now. In order to show our gratitude for your financial support, we upgraded all current paid PIO Plus accounts with unlimited access to PIO Remote service (unlimited agents, firmware and unit testing updates, a remote monitor). Please re-login with your PIO Account to get updated permissions.
We truly appreciate your personal investment in PlatformIO ecosystem. In turn, we would like to help you with your business by providing private commercial support. Therefore, all commercial subscriptions (individual and business) were upgraded with Premium Support and private ticket submission system. No need to pay extra for this!
If you don't use PIO Remote or don't need Premium Support, please cancel your subscription using "PlatformIO IDE > PIO Account (top right corner) > Subscriptions > Cancel" and you will no longer be billed.
Can new users still sign up to PIO Plus Professional Plan?
No. If you need Premium Support by PlatformIO Team with a private ticket submission system, please order a new support package at https://platformio.org/support.
Who do we contact with any other questions?
As always, you can reach us on contact@pioplus.com with any questions, or post a comment here.