Nuclei System Technology is a professional RISC-V IP product company. It provides various RISC-V IP products that can meet the requirements of the AIoT era. It is the first RISC-V Core IP provider company in Mainland China, launches the world's first mass-production general-purpose MCU based on RISC-V together with GigaDevice, see GD32 RISC-V Microcontrollers | GigaDevice, and is also the RISC-V eco-system leader in Mainland China.
We are pleased to announce the first release v1.0.0 of Nuclei development platform.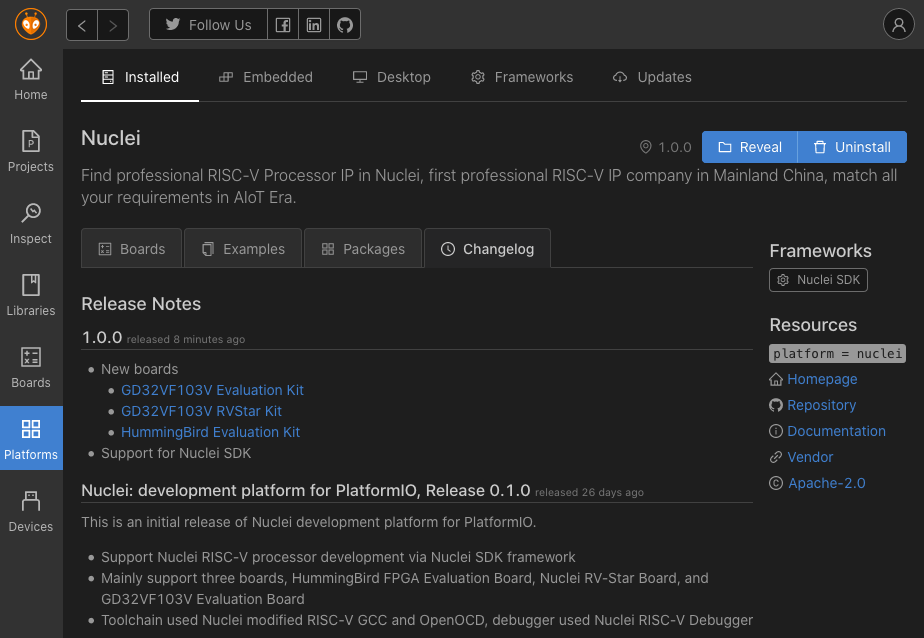 What's New
New boards
Support for Nuclei SDK
See Release Notes for details.
Documentation
See https://docs.platformio.org/en/latest/platforms/nuclei.html
Examples
See project examples platform-nuclei/examples at master · Nuclei-Software/platform-nuclei · GitHub
Update
PlatformIO IDE – please navigate to PIO Home > Platforms > Updates
PlatformIO Core – please run a next CLI command $ pio update
---
- The PlatformIO and Nuclei Teams