Hello!
I'm not sure if i found an error, but it looks like a bug:
I installed the dcf-library (along with others) globally. Everything looks fine, as you can see at the top of the picture.
Everything looks fine. But whern i try to build the project, it fails! Looking at the error-message, the library-path is completely struggled:
Middle of the picture.
The global library-path is ~/.platformio/lib/dcf77_xtal_ID1482
I dont use any private lib.
What happens here? If i put the lib in the project-folder/lib, it compiles. But this is not wished nor do i want to do that, even when the library-manager tells me to do that:
Bottom of the picture: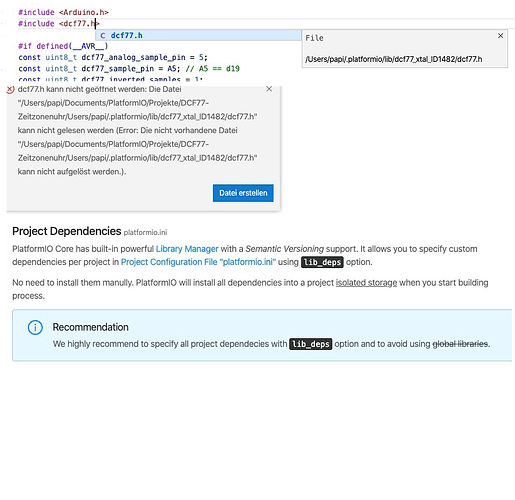 That sound extremely strong to me, with lots of projects i will have multiple lib-copies with different versions, which i don't want! I prefer change my code when a lib evolves!
So is it a bug?
I'd like NOT to edit the platformio.ini inside the project-folder to add whatever globally installed lib.
Or is there anything else i have done wrong? The Library-help doesnt help me much.
I am using the latest platformio 4.4.0.4, even when the app tells 4.4.0.3. I'm using with vscode on osx 10.15.5
"You're up-to-date!
PlatformIO 4.4.0a4 is currently the newest version available."
Any help is appreciated!