Hey everyone,
for a project I am trying to give the user the chance to define a station name (string), that is passed as a macro to the source code for building. I want to keep this away from any code as the device firmware should not depend on this name when building (git history etc.).
First, I tried it with dynamic build flags and a python script, reading from stdin via input(). Unfortunately, it skips the input line and the user cannot enter anything during build process. It works to pass a macro but only without user input via stdin.
Next, I tried it with advanced scripting and a pre: python script. Following the example on the site I tried
env.Append(CPPDEFINES=[
  ("STATION_NAME_1", "FKS7")
])

However, it does not compile and aborts with an error <command-line>:0:16: error: 'FKS7' was not declared in this scope. Hovering over the Macro reveals, that it is being interpreted as FKS7 (without double quotes). So I tried adding escaped double quotes to the user input (e.g. ""FKS7""). At first it seemed to work, as in VSC it appears as everything is alright when hovering over the macro (see attached image) but building still fails with the same error message (also in the image).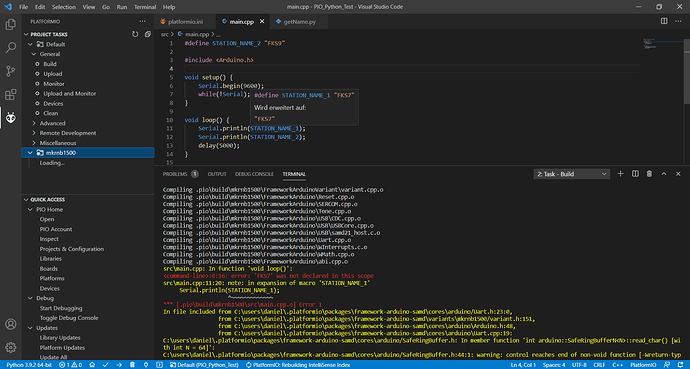 For any hint on how to fix this, I would be very thankfull.
Cheers,
Daniel
PS.:
It happens every now and then that PlatformIO: Rebuilding IntelliSense Index is loading forever, not allowing me to build the (only) environement in platformio.ini. Building default works however.